Voice Ads / Robo Calls (Powered by: Telephone Conveying System)
In the prevailing circumstances, when Load Shading has made TV and Radio off-the-air for most of the day and several channels have splitted viewership, the success and effectiveness of any Advertisement carried on these costly mediums have drastically reduced!
Effectiveness of Traditional Advertisign Mediums : Telivision & Radio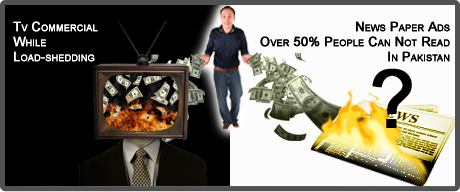 Therefore, the estimated 25% of the target masses, if suppose, having access to TV & Radio (directly or indirectly)would have also be assumed inaccessible! The net result is most wastage of precious time, vital resources and objective!
However, with the use of our state of the art Voice Ads / Robo Calls (Telephone Conveying System) which has been recently proved as highly successful and most effective element being establish on reliable and redundant technologies, the mdeium provides astonishing speed and accuracy with . high success and cost effectiveness.
Voice Ads / Robo Calls (Telephone Conveying System) can be used to mobilized and induct in counseling with local languages (Urdu, Pashtu, Dari, Sindhi, Punjabi, Balochi e.t.c.) to sppread awareness about your agenda or market your products/services. Sending a Voice Ad / Robo Call is as easy as recording a script. Such campaigns are relatively inexpensive, and allows you to deploy a message through a medium not as widely used as other marketing channels. Voice Ads/ Robo Calls merit almost immediate attention, especially when transmitted to cellular phone numbers.
Utilizing Voice Ads / Robo Calls is very easy: How it Works is demonstrated below:-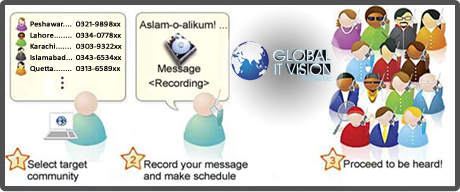 Our services of Voice Ads / Robo Calls (Telephone Conveying System) can be used as a tool for spreading awareness or to perform marketing as per the agenda of our clients with following features:
1. It conveys dynamic Voice Ads with emotions / music, in local languages to all targeted prospects.
2. It deliver ads to Mobiles / Landlines / Wireless Phones/ Satellite Phones even in far-flung areas at an astonishing speed over 160,000 per hour & provides reliable information about how many advertisement / calls heard.
3. Its coverage and effectiveness is very high as it hits the direct concerned to provide achievement in counseling one directly.
4. Its cost benefit ratio is very high and reliable to meet any dead lines and achieve objectives.
5. Data of All landlines & Mobile subscribers of over 25 Countries including Pakistan is available, for you to select your desired aduiences.
REMEMBER, Motivational Voice Ads sent in voice of any known celebrity or personality can be very effective, hence guarantying the attention of the target audience.
Renowned Leaders of Pakistan used our services : Imran Khan, Mian Muhammad Nawaz Sharif & many more...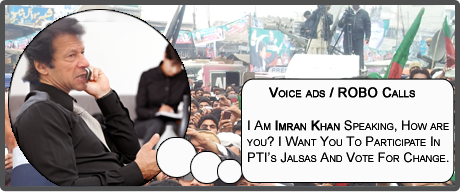 Who could it be at this hour, she pondered as she drowsily reached for the handset. To her surprise, a husky but alluring voice – one which has been clogging the airwaves these days – was on the other end, speaking in Urdu.
"Assalam-o-Alaikum. This is Imran Khan speaking. How are you? I am coming to your city to bring everyone together on December 25 at Mazar-e-Quaid for a peace rally. I hope that you can break all the shackles and take part because at this rally we need to make the beginnings of a new Pakistan. I will be waiting. Thank you."
This recorded voice message by the Pakistan Tehreek-i-Insaf's (PTI) chairperson Imran Khan has been waking up people across the city – much to their delight it appears.
"I was shocked to hear him," said Saba Abid, who received the message on Sunday morning. "In the beginning, I couldn't understand why he was calling me. I think it's a creative way to advertise."
It seems to have worked, however, as Ariba, a teenage resident of DHA, was sufficiently convinced. "Listening to his voice message was amazing," she gushed. "I am definitely going to his jalsa with all my friends."
This marketing strategy was first used to invite people in Lahore before the jalsa on October 30 and the party felt it produced successful results in mobilising thousands of people. "In Karachi we decided to do the same thing because miscreants are tearing down our posters and banners," said the party's head in Sindh, Naeem-ul Haq. "Through Imran Khan's personalised message, we hope to mobilise our supporters."
Haseeb Anwar, a resident of Gulshan-e-Iqbal, was so excited to hear his favourite politician's voice, he started talking back until he realised it was a recorded message.
Imran Khan utilized our Voice Ads/ Robo Calls services several times to reach to massess. Whether it be Elections, Lahore Jalsa, Karachi Jalsa or even Waziristan Jalsa. He is simply in love with our innovation.
Jang News reported that Nawaz Sharif adopted Scientific way to reach Voters, PML N Chief Prime Minister Nawaz Sharif is calling voters across Punjab and appeal them to come out of their homes and vote for Nawaz Sharif.
Daily Nawa i Waqt reported that PML N started telephonic campaign to motivate voters. In the Voice Ad Nawaz Sharif said that voters should come out if they want to get rid of Musharafs regime then they should come out a vote for Nawaz Sharif. Other Media reported that the Voters felt it as a "Real" call from Nawaz Sharif.
Our Voice Ads / Robo Calls helped Nawaz Sharif to record his message and then relay it to Millions of potential voters across Punjab Province. You can also utilize this service to give a 'personal touch' to your targetted audience.
Click here and Contact Us now